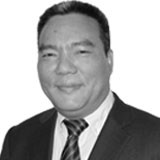 Master Mariner, SCR
Shanghai
+86 21687 67789
Tony Huang is a Master Mariner with experience in all ranks from Cadet to Master on General Cargo, Container, Chemical Tankers, Bulk Carriers and Cruise Ships, gained prior to moving ashore into a consultancy role. He joined Andrew Moore & Associates in 2007, and relocated to Shanghai in 2010 where he now manages the Mainland China Team operations.
Tony has handled a number of high profile salvage and wreck removals with in the region, including the wreck removal of a 42,000DWT container ship in Fujian, China. During this operation he oversaw fuel oil and dangerous goods removal and clean up, as well as the removal of 1,400 containers from the casualty and onwards handling and processing the cargo once ashore.
His native language abilities, regional contacts and cultural understanding have proved vital in expediting a quick and successful outcome in many instances. Being the first Chinese Lloyd's approved Special Casualty Representative (SCR), and also sitting on the Expert Committee of the China Diving and Salvage Contractors Association (CDSCA), gives him an in depth and broad understanding and knowledge of capacities and developments of the salvors in China.
With over a decade spent at sea and another decade as a Marine Consultant, having undertaken numerous surveys, Tony has a amassed a wide knowledge and practical experience of the majority of cargoes that are shipped to and from China. These include dry bulk commodities varying from Coal, Fertiliser, Ores, Flour Spar, Steel Products, Project Cargo, Heavy Lift and Grains, as well as Liquid Cargoes such as Crude Oil, Product Oil and Chemicals.
Tony regularly offers sensible and practical advice to Owners, Charterers and their Insurers on cargo claims and disputes, ship related incidents including collisions, groundings and oil spills. He has also been engaged in various consultancy and investigation matters for litigation and arbitration proceedings, in Hong Kong and London. As well as regularly attending Chinese Maritime Court hearings as an expert witness.