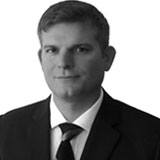 Consulting Scientist
Hong Kong
+852 2861 3312
Timothy Lucas holds a PhD in Nuclear Science & Engineering from the Massachusetts Institute of Technology (U.S.A).
Dr. Lucas is an integral member of the AMA Science team, to which he greatly contributes thanks to his broad scientific and engineering knowledge. His valuable experience as a failure analyst specialized in material fracture, corrosion and battery failure, further reinforces our Hong Kong based group of material experts and scientists.
Dr. Lucas' expertise added value in cases involving gas-pipeline rupture and explosion, MEMS device operating life extension, battery fire root cause analysis, as well as design improvements. Dr. Lucas has consulted on corrosion issues affecting nuclear power plants, consumer electronics, surface coatings and has extensive experience in environmental degradation of marine materials. Additionally, he has performed fracture analysis on glass, ceramic and polymers for electronic displays, microchips and plastic housings.
During his consulting career, Dr. Lucas has also performed numerous audits and case studies for due diligence concerning investment, supply chain management, and litigation support. Throughout the Asia-Pacific region, he has personally audited battery factories, solved production ramp issues for major Fortune 500 companies, audited repair activities on production equipment and surveyed inability to meet contractual obligations leading to loss and damage on international arbitration and litigation cases.
Publications:
1. T. Lucas, A. Forsström, T. Saukkonen, R.G. Ballinger, H. Hänninen, "Effects of Thermal Aging on Material Properties, Stress Corrosion Cracking, and Fracture Toughness of AISI 316L Weld Metal" Metallurgical and Materials Transactions A, Vol 47(8), August 2016
2. T. Lucas, R.G. Ballinger, T. Saukonen, H. Hanninen, "Effect of Thermal Aging on SCC, Material Properties and Fracture Toughness of Stainless Steel Weld Metals" 15th international Conference on Environmental Degradation of Materials in Nuclear Power Systems, 2012
3. L. J. Ayers, T. R. Lucas, R. G. Ballinger, "The Effect of Thermal Aging on Hardness of Stainless Steel Welds" Transactions of the American Nuclear Society, 2011
4. J. Boungiorno, L.W. Hu, G. Apostolakis, R. Hannick, T. Lucas and A. Chupin, "A feasibility assessment of the use of nanofluids to enhance the in-vessel retention capability in light-water reactors" Nuclear Engineering and Design, Vol 239(5), May 2009
5. T. Lucas, L.W. Hu, J. Boungiorno, "Investigation of gamma radiation on nanofluids for nuclear applications" Transactions of the American Nuclear Society, 2007