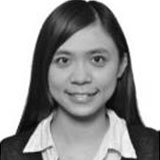 Consulting Scientist
Hong Kong
+852 2861 3313
Sharlet Xiao holds a PhD in Chemistry and, has extensive experience in analytical research and testing. Equipped with a high-level knowledge of methods validation and quality control for chemical testing, Sharlet has successfully guided many corporations along the path of appropriate testing regimes creation and implementation. She is very knowledgeable in market standards and global standard operating procedures in chemical testing.
Over the years Sharlet has built up an enviable level of hands-on experience with a broad range of analytical instruments, for forensic analysis on textiles, assessing quality of food products and for agricultural crops. Sometimes there is just no substitute for attending on site to see materials in their original state, and Sharlet has travelled around the world to a range of client and industrial facilities, to oversee the selection and assessment of items for sampling and testing.
Since joining AMA, Sharlet has been applying her analytical skills towards a wide range of agricultural cargo damage, chemical contamination surveys, and dangerous chemicals management.
Publications:
1. Platinum (II) and Gold (III) Allenylidene Complexes: Phosphorescence, Self-Assembled Nanostructures and Cytotoxicity'a – Chem. Eur. J. 2013.
2. Phosphorescent nematic hydrogels and chromonic mesophases driven by intra- and intermolecular interactions of bridged dinuclear cyclometalated platinum (II) complexes' b – Chem. Sci. 2014.