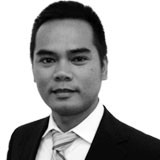 Consulting Scientist
Singapore
+65 6438 7891
Consulting scientist and academic researcher based in Singapore with extensive experience in laboratory based research and teaching. Rene Angelo Macahig holds an MSc in Chemistry and a PhD in Pharmaceutical Science. He spent several years at the research bench in Japan before moving on to an assistant professorship in the Philippines. Rene is currently applying his analytical and troubleshooting skills to maritime investigations.
Prior to consulting, Rene had extensive experience in research and academic instruction in the fields of analytical, organic, and natural products chemistry. He is an expert in chemical analyses and instrumentation such as spectroscopy (NMR, MS, IR, UV-Vis) and chromatography (HPLC, GC). He is a member of the Integrated Chemists of the Philippines, Natural Products Society of the Philippines and a former member of the Pharmaceutical Society of Japan.
Since becoming a consulting scientist, Rene has been involved with several cases including coating damage in cargo tanks and contamination of jet fuel.