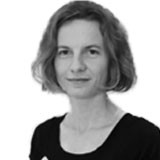 Consulting Scientist
Hong Kong
+852 2861 3312
Mirjana Küzma holds a PhD in Materials Science (University of Uppsala, Sweden) and a BSc in Chemistry (University of Ljubljana, Slovenia). Technically proficient Material Scientist & Chemical Engineer and an integral member of the AMA team in Hong Kong.
Mirjana is highly experienced in R&D and engineering; especially in materials chemistry and electrochemistry, inorganic chemistry, structural and surface chemistry and nanotechnology. She applies her skills to a number of subjects including marine structure fouling and corrosion prevention. Strong background in Li-ion batteries, energy harvesting materials, composites, nano-materials, surface coating methods, marine antifouling paints, electrochemical methods and corrosion tests, synthesis and characterization methods, microscopy, nano- and micro- encapsulation methods and polymerization techniques. She is able to solve a wide range of engineering problems, apply science to real-world challenges and to overcome technical problems in a safe and economical fashion. Experienced in design and development of new and improved materials & products, analysis of physical and chemical properties of materials and testing methods.
She is well versed in microscopy (Optical microscopy, SEM, TEM), thermal analysis (TGA, DSC), XPS & XRD, UV-vis, RI and viscosity measurements, particle size analysis by laser diffraction and dynamic light scattering techniques, BET and electrochemical methods.
Publications:
1. Gaberšček M., Küzma M., and Janko J. "Electrochemical kinetics of porous, carbon-decorated LiFePO4 cathodes: separation of wiring effects from solid state diffusion." Phys. Chem. Chem. Phys. 9 (15) (2007) 1815–1820.
2. Küzma M., Domniko R., Meden A., Makovec D., Bele M., Jamnik J., and Gaberšček M. "Electrochemical activity of Li2FeTiO4 and Li2MnTiO4 as potential active materials for Li ion batteries: a comparison with Li2NiTiO4." J. Power Sources 189 (1) (2009) 81–88.
3. Kuezma M., Jamnik J., and Gabešček M. "Elektrokemijsko ožičeni titanati za litij ionske baterije." Anali PAZU. 1 (2011) 16-20.
4. Küzma M., Dominko R., Hanžel D., Kodre A., Arčon I., Meden A., and Gaberšček M. "Detailed in-situ investigation of the electrochemical processes in Li2FeTiO4 cathodes." J. Electrochem. Soc. 156 (10) (2009) A809–A816.
5. Domniko R., Vidal-Abraca GARRIDO C., Bele M., Kuezma M., Arčon I., and Gaberšček M. "Electrochemical characteristic of Li2-xVTiO4 rock salt phase in Li-ion batteries." J. Power Sources 196 (2011) 6856-6862.
6. Saravanan K., Lee H-S, Kuezma M., Vittal J. J, and Balaya P. "Hollow α-LiVOPO4 sphere cathodes for high energy Li-ion battery application." J. Mater. Chem. 21, (2011) 20042-10050.
7. Balaya P., Saravanan K., Hariharan S., Ramar V., Lee H. S., Kuezma M., Devaraj S., Nagaraju D. H., Ananthanarayanan K., and Mason C. W. "Nanostructured mesoporous materials for Li-ion battery applications." Energy Harvesting and Storage: Materials, Devices and Applications II, Book Series: Proceedings of SPIE, V. 8035, No.: 803503, 2011. [DOI: 10.1117/12.884460].
8. Kuezma M., Deveraj S., and Balaya P. "Li2MnSiO4 obtained by solvothermal method: ex-situ studies on the charge/discharge plateau." J. Mater. Chem., 2012, 22, p21279. [DOI: 10.1039/C2JM34455F].
9. S. Deveraj, M. Kuezma, C.T. Ng, and P. Balaya, "Sol-gel derived nanostructured Li2MnSiO4/C cathode with high storage capacity."Electrochemica Acta, 2013, 102, p290 [DOI:10.1016/j.electacta.2013.04.009]
10. D. H. Nagaraju, M. Kuezma, G. S. Suresh, "LiFePO4 wrapped reduced graphene oxide for high performance Li-ion battery electrode (Article in Press, J Mater Sci,) [DOI 10.1007/s10853-015-8976-2].