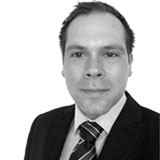 Master Mariner
Liverpool, U.K.
UK based Master Mariner, Matt Lynch has gained throughout his career a rich experience in marine accident investigation, auditing, survey and project cargo handling, as well as an extensive knowledge of maritime regulations, Safety and Quality management systems, and the development of effective company management systems and policies. While at the UK Marine Accident Investigation Branch (MAIB) he led investigations to establish the causes and circumstances of marine accidents, including: Collision, grounding, foundering, fire, and, personal injury.
After achieving command of RoPax vessels he was moved ashore to establish an operations department with responsibility for delivering vessels into service and responsible for measurement of their performance against charter parties.
Through the development of enhanced bridge team management procedures, vessel implementation, efficiency and performance strategies, and the introduction of an officer training and development program, he enhanced ISM and quality management procedures (inter alia), achieving improved retention, compliance and vessel performance. Other projects included delivery of new build vessels into the fleet and layup of vessels, ensuring these assets were maintained at an appropriate level of readiness and that their condition was preserved avoiding costly reactivation costs.
While responsible for SHEQ he oversaw the rewriting, and simplification, of the company's ISM management system, which was successfully rolled out across the fleet and company. This delivered improvement to both the vessel's, and overall company compliance in addition to a reduction of accidents, incidents and insurance claims fleet wide.
As a port Superintendent, Matt was responsible for the planning and supervision of cargo loading and discharge operations according to the contractual requirements of the customers. This included tailoring specific labour and equipment requirements appropriate for the commodity being handled while ensuring compliance with applicable local regulations. He also developed tailored solutions for, and directly supervised the handling of high value project cargoes, ensuring discharge without loss was achieved.