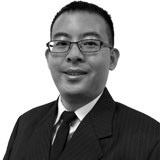 Surveyor
Singapore
+65 6438 7891
Jerry Lin (Hongyi) is an experienced and qualified marine surveyor and loss adjuster. He holds a Bachelor degree in Engineering Sciences, an AQSIA China accredited surveyor licence, and an MPA Singapore bunker surveyor licence. He has worked on an wide range of marine and cargo projects / surveys (condition, damage, bunker, investigative), while also being involved with the testing of various oil and fuel products in laboratories, and occasionally advising clients on oil blending techniques.
As a loss adjuster, Jerry has gained over the years a significant knowledge of the various types of insurance claims, having handled hundreds of them for our Lloyd's Agency in Singapore and P&I Clubs (technical claims adjusting, loss control, risk management, loss recovery and salvage measure, etc).
Jerry also acts as our Singapore office's quality manager for bunker surveys, hence ensuring that all work is conducted in accordance to best practices, and following all ISO / IEC standards.