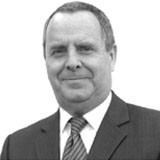 Fire Investigator
Singapore
+65 6438 7891
David Townsend is a highly experienced fire and explosion investigator. As a manager of Andrew Moore & Associates group fire response and investigation services, he is responsible for fire, and explosion investigations as well as fire related consultancy assignments, ashore and afloat, worldwide. He has a vast experience of fire, including firefighting, tactics, command and control, fire safety, risk assessment and product safety.
David has attended over 3,000 fire incidents, and acted as a lead investigator on a further 2,150 cases, including all building types and classes, yachts, ships, industrial plants, vehicles. He has previously held the position of Senior Fire Investigator with IFIC Forensics, and gained throughout his impressive career a wealth of experience of fire brigade organization and fire response across the world.
– Expert witness in the UK and abroad: Coroners inquests, Criminal and Civil courts.
– Fire risk assessment including for NHS Trust hospitals and the formulation and presentation of the training course offered by the UK Building Research Establishment.
– Fire Investigation trainer for the National Fire Service College, UK from 2007 to 2009, training to the Kuwait Fire Service.
– Founder and former chair of the IFE fire investigation and research special interest group.