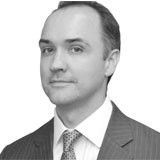 Casualty Manager
Hong Kong
+852 2861 3313
Chris served as a seagoing deck officer on a variety of vessels including clean and dirty product / chemical tankers, VLCC, ULCC, offshore, FPSO and seismic survey vessels worldwide; sailing in the rank of Chief Officer for the last 4 years of this.
After an initial three and a half years with Andrew Moore & Associates in their Hong Kong office as a Marine Consulting Surveyor, he then spent a further four years as a Marine Manager, investigating shipping incidents and conducting crew interviews for the Hong Kong office of a major international shipping law firm.
Christopher Raven has substantial experience in all manner of cargo and vessel condition surveys, damage surveys and investigations (including root cause analysis); cargo loading and stowage, cargo short outturn, short loading and cargo quality disputes as well as all manner of performance related issues.
Additionally, Chris has substantial experience in vessel collision investigations, including the collection and interpretation of technical evidence from bridge recorders, VDR / S-VDR, and other electronic and documentary sources. Chris is proficient at accident reconstructions and statement taking for legal purposes.