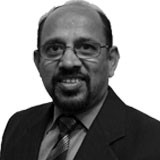 Engineer
Hong Kong
+852 2861 3313
Choppalli Rao has over 20 years of sea going experience on a variety of vessels including bulkers, container carriers, timber carriers, general cargo, reefer vessels and ocean going research vessels. Chief Engineer, part of the on board management team, involved in budget control and planning, implementation of various programs, including planned maintenance and preparation of vessel for refit and surveys.
Choppalli also has 19 years of shore experience in Hong Kong based multinational ship management companies.
– Charter conflict resolution; speed and performance analysis.
– Extensive experience in smooth operation of vessels, planned maintenances & effective management of ship budgets to meet industry – standards without compromising the safety aspects.
– Liaison with Class and Flag to ensure vessels meet statutory requirements.
– Well versed in ship management, vessel inspections, audits, damage repairs, dockings, crew selection, claims, budgets, vessel contingencies, imparting training to seafarers and guidance to Superintendents.
– Experience of H & M surveys for P & I Clubs and insurers and extensive knowledge of machinery failure investigation