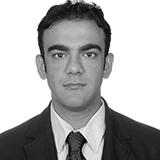 Engineer
Istanbul
+90 533 370 22 22
Anil Gokbayrak holds a BSc in Marine Engineering from Istanbul Technical University (Turkey) and SUNY Maritime College (U.S.) He has spent over 12 years at sea raising through the ranks, from Cadet to 1st Assistant Engineer, on a variety of ocean going merchant vessels powered by low & medium speed diesel engines.
Technical Superintendent attending as shipowner's representative during the new building of two Ice class chemical oil tankers. Extensive project supervision experience and liaison with shipyard, Classification Society, Port and Flag State authorities. Routine dockings of vessels at repair facilities in Turkey and China.
Since joining AMA, Anil regularly assists our clients around Europe and the Middle East on several matters including among others: Pre-Purchase inspections, Hull damage survey; Machinery claims, Cargo hold cleanliness and cargo-worthiness inspections, On / Off Hire Surveys; P & I Condition & Entry surveys; H & M Underwriter pre-entry condition survey; Risk assessment surveys, cargo sampling and loading, Bunker Quantity Investigations; Bunker Disputes.