Scientific Expertise
We are experts in the fields of forensic, chemical, biological, environmental, and material sciences. We confidently act as an interpreter, explainer, guide, and reporter on the scientific and technical aspects of raw and refined products, materials, and technologies. Drawing from our rich engineering and scientific knowledge, and competencies we provide technical guidance on the nature of commodities and fuels, the various standards governing sampling, testing and analysis, grading and characterisation, as well as the associated hazards, health and safety issues that accompany their storage and transport. Our deep understanding of analytical chemistry is well applied to solid and liquid bulk cargo issues and disputes. Our scientists are often called upon to represent our clients in some of the highest profile industrial projects, incidents and disputes. We provide robust expert evidence ready for court and arbitration proceedings.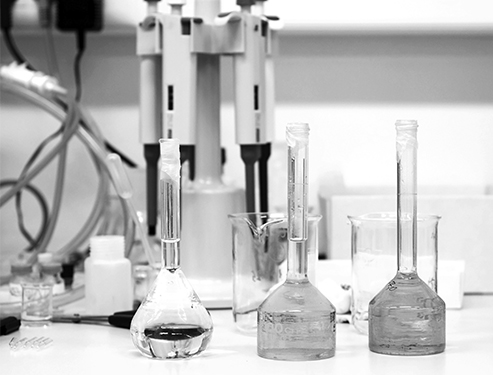 All of our scientists providing technical guidance and support on food cargo and industrial commodities have a deep knowledge of chemical analyses (organic, inorganic, materials) and instrumentation (spectroscopy, chromatography, etc). In the field of fuel and petrochemicals, we offer access to a vast source of expertise thanks to our long experience of analytical studies on heavy fuel oil and distillate fuels at testing laboratories. We can identify the root cause of poor quality bunkers and chemically contaminated fuels, and offer solutions for improvements to mitigate a cargo loss, or avoid adversely affecting the performance of machinery and equipment onboard. The types of cargo and materials we frequently work with include, amongst others:
Mineral Ores, Metals & Concentrates: Rich Natural Iron Ores (Magnetite, Hematite, Goethite), High and Low Grade Nickel Ore Laterites, Bauxite Aluminium ore, Base Metals (Aluminium, Copper, Lead, Nickel, Tin, Zinc), Platinum Group Metals (Gold, Silver, Platinum, Palladium, Iridium, Rhodium, Ruthenium), Lithium and Lithium Salts, Copper Ores (Chalcopyrite, Chalcocite), Direct Reduced Iron (DRI), Zinc concentrate, Fluorspar, Feldspar.
Energy Minerals: Crude Oil, Natural Gas, Petroleum Gas, Thermal Coal, Steam Coal.
Grains & Cereals: Maize (Corn), Wheats, Barley, Oats, Rice, Rye, Soybean (Oil & Meal), Oilseeds, Millets, Corn meals, feeds and pellets.
Petrochemicals & Fuels: Chemical contamination (Styrene monomer, para-Xylene), Bunker fuel, Jet fuel (A, A-1), leaded / un-leaded and low sulphur petroleum products.
Chemicals: Wide range of bulk and containerised chemicals (IMDG, Hazardous materials, MSDS).
Dairy, Livestock, Reefer Cargo: Milk, Powdered Milk, Fish, Meat, Poultry, Fruits & Vegetables.
Soft Commodities: Cocoa, Coffee, Lumber, Cotton.

Environment, Energy & Technology
Closely following the latest developments in material manufacturing processes, coating systems, and environmental regulations and technologies, we regularly advise clients with shared interests or direct investments in the below fields:
Hull Fouling / Paint technology / Performance dispute
Ballast water management
Environmental monitoring (air quality control and gases composition analysis)
Exhaust gas treatment systems
Batteries & solar panels
.
Material Analysis
Our material scientists frequently consult on the damage or failure of metallic components and machine parts. Our strength in material sciences, and history in consistently resolving metal related claims are well applied to shipping related incidences. We are also experts in materials testing, and the use of various laboratory techniques and instruments to do so.
Steel & Metal Products we routinely work on include: Carbon, Stainless, Alloys, Electrical, Rebar, Merchant Bar, Wire rod, Plate, Hot & Cold Rolled Coils, Shipping ISO Containers, Metal Failure Analysis, Container Lashing Systems, Damaged steel pipes and rods, as well as finished products including vehicles and metal parts.

Case Study: UV absorption in MEG
High-value chemical cargo have very low tolerances in terms of specifications (ultra-low moisture requirements, colour degradation, etc.). For example, fibre-grade monoethylene glycol (MEG) is required to be free from contaminants. As the precursor to polyester, the purity of MEG would ultimately affect the quality of the fibres. The standard method for testing MEG purity measures a sample's ultraviolet (UV) transmittance at a few wavelengths in the region of 220 to 350 nm. Pure MEG does not absorb in this region and as such, the higher the transmittance the higher the MEG purity. However, dissolved oxygen in MEG can form complexes that shift the solvent absorption peak into the measurable UV range, near 190 to 250 nm.
To the untrained eye a laboratory analysis indicating a low transmittance may lead to the conclusion that the cargo was off specification and subsequently to rejection of the cargo and associated claims. However, experienced scientists know that simple steps can be taken in the laboratory to confirm the presence of UV-absorbing contaminants other than dissolved oxygen.
In one particular case, and prior to discharging a parcel of MEG, samples were taken by surveyors representing the receivers, and subsequent testing indicated lower than acceptable levels of UV transmittance. Understandably, the receivers sought to reject the high value cargo claiming deterioration during the voyage and held the Vessel responsible. However, under close supervision by AMA scientists, joint testing was arranged and the correct techniques employed. The cargo samples passed the analysis, and the cargo was accepted by the Receivers.
Case Study: Container lashings failure
A 14000 TEU vessel lost 20 containers overboard during a sea passage from the Mediterranean to northern Europe. AMA surveyors examined the damages onboard and collected samples of the broken parts. Our in-house material experts then supervised the metallurgical analysis, and later confirmed that the lashing equipment had failed to meet the standards to which it was designed.  This case was then completed with a full analysis of the voyage, which cleared our clients of any liability for claim.