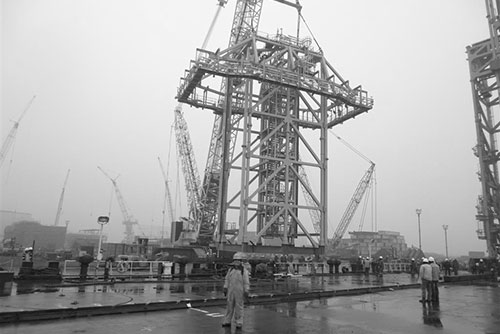 AMA has conducted a marine warranty survey and offered some technical assistance to a leading oil and gas group, on the skid and lift out operation of deep-water dual hoisting tower built for a semi-submersible offshore drill platform currently under construction in China. Our shipyard and new-building expert, Mr. Blaine Wu, spent a week onsite to oversee the safe progress of the operation.
Tower 1
21.400 x 17.860 x 42.740 m (LxWxH)
Weight 1097 tons
Tower 2
23.306 x 14.220 x 26.497 m (LxWxH)
Weight 243 tons
Both towers were lifted from the assembly site to the edge of the quay side and secured on board the "DE BO". The "DE BO" departed Penglai after two days of sea-fastening work under our supervision, and safely arrived at Yantai following a sea passage of 6 hours.